Equine Inspired Therapies
with
Vicki Hancock
WELCOME
We are located North of Brisbane in Neurum, just over 5 minutes from Woodford Town Centre.  Inviting horses to assist with therapy can offer a unique environment for positive therapeutic outcomes.  To find out more please continue to read our page, call us on 0447 425 444 or visit the website below for more information.
Contact Vicki Hancock for more information below. 
vicki@inspiredtherapies.com.au
www.equineinspiredtherapies.com.au
Sessions run for 60 minutes, bookings are essential.
WHAT HAPPENS IN AN EAP SESSION?
---
In EAP, clients are offered safe (physically and emotionally) experiences with horses for the purpose of exploring self-experience in relationships, building self-awareness, building awareness of patterns or habits that are no longer serving them well, developing psychological and social skills and addressing therapeutic goals clients have identified.
This may include observation of horses, meeting with horses at liberty, lead-line experiences including touching, grooming and leading, leading at liberty (leading horses without a lead rope), creative activities with horses and led mounted experiences.
HOW WILL EQUINE ASSISTED THERAPY HELP ME?
---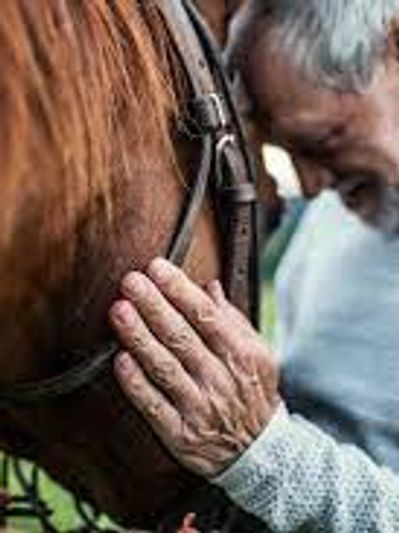 Equine Assisted Psychotherapy are proactive, experiential sessions that can help provide support in many areas such as but not limited to:

Anger
 Anxiety
 Attachment Disorders
Behavioural Issues
Child Abuse/Neglect
Communication Issues
Depression
Divorce/Absent Parents
Domestic Violence
Eating Disorders
Emotional Regulation 
Grief  
Lack of Direction 
Low Self-Esteem
Mental Health 
Post Traumatic Stress Disorder
Relationship Issues
Self Harm - Self Injury
Social Skills
Substance Dependence 
Suicidal Ideation
Trauma

EAP is suitable for children, teenagers and  adults and  can be individual, family or group sessions 
WHY CHOOSE EQUINE ASSISTED PSYCHOTHERAPY? (EAP)
 Perhaps being in a room with a counsellor feels too confronting for you, you enjoy the outdoors or you may relate to animals a lot easier than people.  You may have tried counselling and it hasn't been helpful for you.   Horses offer an acceptance that is authentic, non judgement and a genuine welcoming to all feelings they experience.    Horses live in the here and now, are herd animals and seek connection, therefore horses can teach us how we communicate to others, how we are in our relationships, and how we are interacting with our thoughts and feelings.
Equine Assisted Psychotherapy (EAP) offers support to individuals, couples, families and groups in a unique personalised, trauma informed approach to support and guide you through the changes or developments you desire in your life.  
People of all ages can benefit from EAP by working with what is happening for you now, uncovering your patterns and behaviours, becoming more aware of yourself and your beliefs to understand the ways they may no longer be serving you well, or leaving you feeling stuck.
EAP is diverse and can assist with issues such as managing depression and/or anxiety, substance dependence, relationship issues, communication difficulties, emotional regulation, boundary awareness, personal or professional growth, healing from trauma and team building.
WHAT DO I NEED TO KNOW?
You do not need to have any experience with horses, sessions are held outside and experiences are offered on the ground - this is not a riding lesson. 
You are welcome to work as closely or a far away from the horses as you feel comfortable.  As we are going to be outside with horses it is advised that your wear clothing you don't mind getting a bit messy, have closed toed shoes and are prepared to be working out in the sun - please be sun safe.
You will be supported  by a  fully qualified psychotherapist/equine therapist to explore and work on your needs or goals.  Sessions may involve but wont be limited to horse observation, meeting the horse/s at liberty, grooming experiences, haltering and leading with the horses or exploring and creating items/obstacles with the horses.
Contact Vicki Hancock for more information below. 
vicki@inspiredtherapies.com.au
www.equineinspiredtherapies.com.au
Sessions run for 60 minutes, bookings are essential.